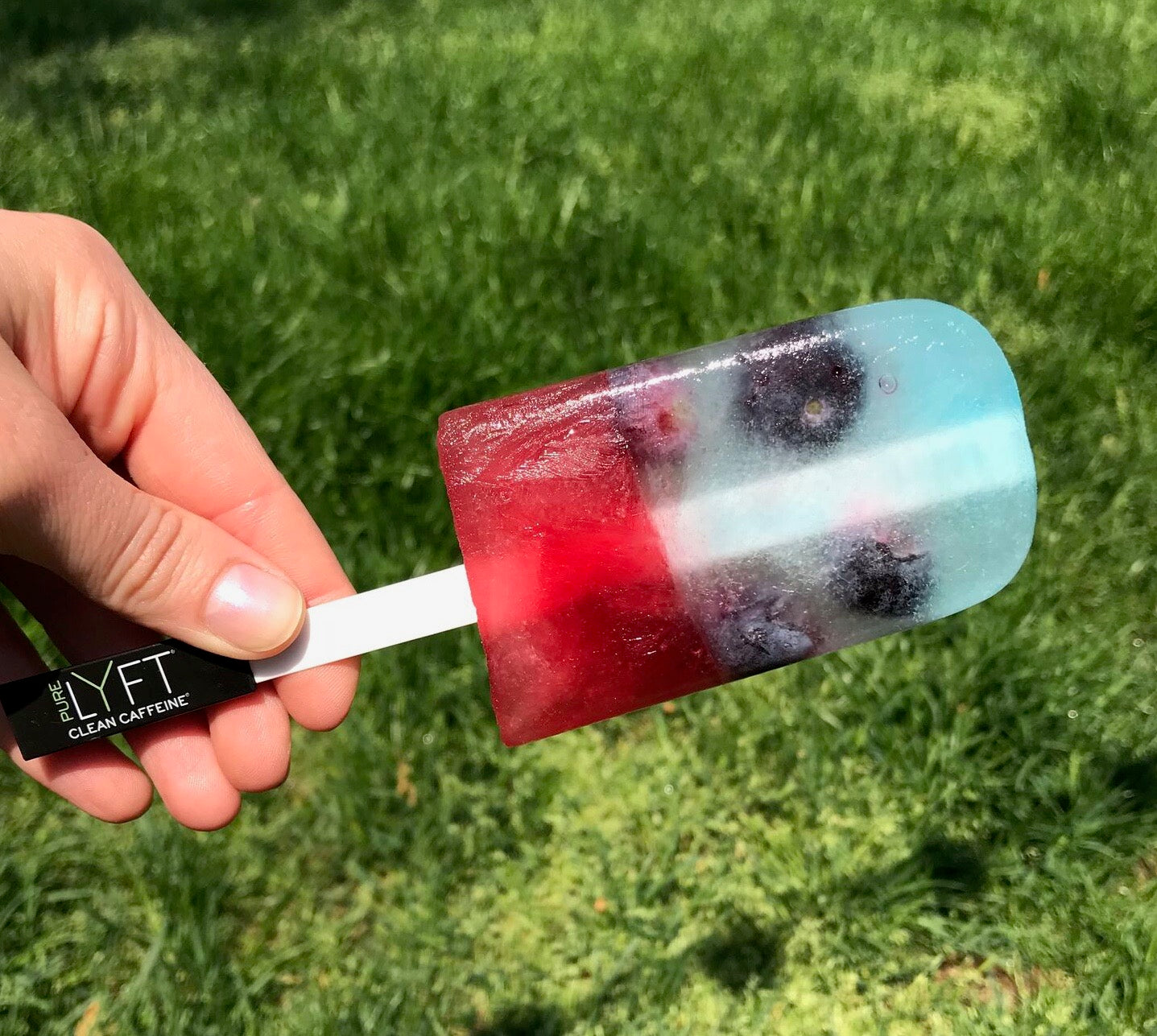 Four Red White and Blue Popsicles! 
The weather is finally getting warmer and we have the perfect summer treats to keep you energized. We have put together four popsicle recipes for you to beat the heat this summer. 
1. Energized Berry Delight: This popsicle combines coconut water, strawberries, blueberries and Mixed Berry pureLYFT, for a sweet treat without the added sugar. 
Start by taking coconut water and adding 1 Mixed Berry pureLYFT. Place the empty pureLYFT stick into the mold and leave it there with the black handle on the outside. Then you add sliced strawberries and whole blueberries to the popsicle mold. Next you add the energized coconut water to the mold and freeze for about 2 hours. 
2. Red and Blue Stripes: This popsicle has very simple ingredients but takes a little longer to achieve the striped look. 
Start by getting a red and a blue Gatorade and adding an Original pureLYFT stick to each bottle. Next you place the empty pureLYFT stick into the mold and leave it there with the black handle on the outside. You can start with whichever color you prefer and pour small amounts into the mold. Freeze for 1 hour in-between layers. 
3. Energized Blueberries: This frozen treat is perfect for the summer and to get in your antioxidants. Blueberries are considered a super food and have many health benefits! Combining blueberries, Mixed Berry pureLYFT and club soda makes this popsicle a refreshing treat! 
4. Cranberry Blueberry Bliss: This sweet treat combines cranberry juice, blueberries, gatorade and some all-natural energy! 
Start off by energizing the blue Gatorade with an Original pureLYFT stick. Add the empty stick to the popsicle tray and add the blue energized Gatorade into the bottom of the mold. Then throw in a couple of blueberries and place in the freezer for 1 hour. When you take it out add cranberry juice and place back in the freezer for 1 hour. 
Enjoy these sweet treats and let us know what you think over social media. We want to see your energized creations! 
Wondering what ENERGIZE ANYTHING actually means? Check out our recipe page for some mouth watering ideas: https://purelyft.com/recipes/